May 5, 2022 2:55 pm
Wednesday 3rd March 2021 saw the abduction and murder of Sarah Everard whilst she was walking home alone, an event that is all too common for women across the globe, yet is not commonly discussed or brought to the attention of those who need to understand it most in order to ignite the change needed in our society. This tragic event sparked heartbreak and outrage across the country, seeing women band together to demand a better future and a better now. No more educating women on how to stay safe – carry pepper spray, stay in groups, only walk in lit up areas, don't do anything to provoke unwanted attention. It's time to talk about behaviours that affect women on a daily basis and understand the trauma behind the intrinsic safety measures set in women; this production has been created to educate on how to be an ally, confidently stand against misogyny and aggression against women and show how we as a society can make change together.
Paul Calver, the Operational Learning Team Leader within the Learning and Development team at Warwickshire Police alongside the Home Office set out to bring this discussion to the forefront of education, with the idea of creating an immersive learning production alongside a lesson plan to take out to secondary schools, providing a safe environment for teenagers, more specifically teenage boys, to engage and learn about such a difficult topic.
Paul reached out to RiVR and Bristol based VR Research company Limina Immersive, to integrate our highly skilled and immensely passionate teams to develop an impactful and engaging production that captures the stark reality of being a woman on a day to day basis.
A vital element of this project was to ensure the safeguarding and mental wellbeing of all women involved on this project; it was important that Debbie Savage, the Sexual Assault & Abuse Strategy Coordinator for Coventry City Council, was also brought onboard to provide continuous professional support and advice for the full cast and crew.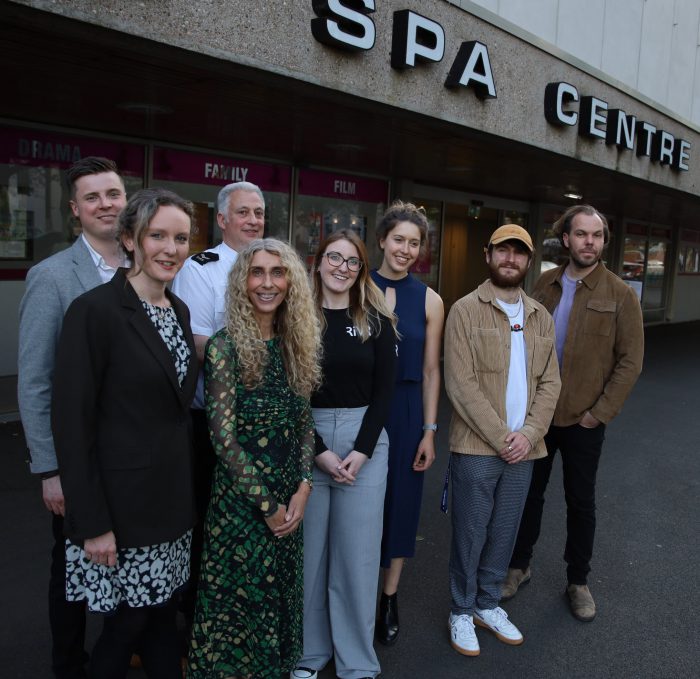 Lead by the women of the team; Catherine Allen (Director), Cat Jeynes (Production Manager) & Emma Hughes (Producer) began on the pre production, they set out to grasp a wider understanding of women's experiences and with the help of Debbie and writer and journalist Sian Norris, held multiple focus groups with women and girls of all ethnicities, backgrounds and ages. This experience was harrowing and alarmingly illuminating to say the least; as an adult woman it's easy to become complacent about your own lived experiences but listening to the corrupt behaviours experienced by these young women was a fresh awakening, which only made us all the more determined to get this production right.
We went back to the rest of the team, Scott Gibson (Director of Photography), Dan Mitton (Camera Operator) and Steven Lake (Executive Producer) with our findings, and began to construct and develop different formats and storylines with the best potential to educate and inspire conversation and more importantly, change. The process of finding the most effective style took some time, debating on whether we should make it "a day in the life" dramatised piece, a documentary interview format, or a fly on the wall conversational piece. As VR can create and trigger memories we felt it irresponsible to make a "day in the life" piece putting viewers into the shoes of such situations; as this is to be taken to schools, the risk of triggering past trauma in young girls was too high. With this in mind we landed on the idea of providing an insight and front row seat to natural and real conversations amongst a group of women, discussing topics that wouldn't normally be talked about in such depth in front of men and young boys. This approach provided an authentic and raw experience, offering the opportunity to build empathy and understanding among the viewers.
Our casting researcher Hannah Rainbow began the vital search for our contributors, seeking out a diverse group of women who were ready to share their stories, passionate about the desire for change and confident to discuss such heavy topics. Eventually hiring 5 truly fantastic women in their 20s from different areas across the UK, the conversations were made up of smaller groups discussing set topics which were broken down into digestible chunks in order to stimulate conversation amongst the class. The topics discussed were:
Street Harassment, Online & Digital Abuse, Unwanted touching and what young men can do to truly help to create positive change.
For our filming location Cat Jeynes (Production Manager) scouted a beautiful, four bedroom house in the centre of Stratford Upon Avon. This not only worked as a hybrid for accommodation for our contributors but it also meant that they were given a space that became familiar and a home away from home, which given how taxing these days were going to be, was paramount. We also found that providing them with a space to share allowed them to get to know each other better and explore these subjects naturally without the pressure of a film crew, which in-turn enriched the conversations they had on camera.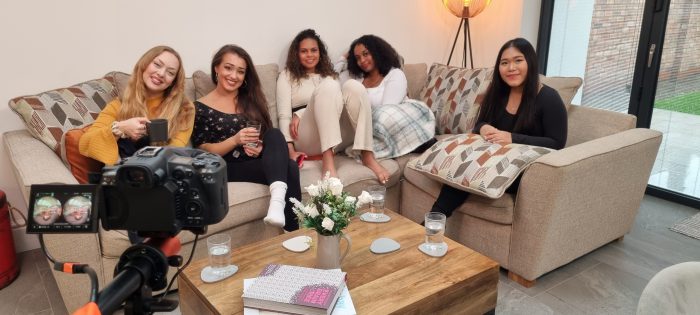 On set the RiVR team were incredibly excited as this was the first project to be filmed with Canon's brand new camera. The new EOS R5C, cinema camera from Canon coupled with their brand new state of the art dual fish-eye lens was utilized by Scott, Dan and the production team during filming to get the best possible image output, to allow viewers to feel like they are really in the same space as the contributors on-screen. RiVR's new partnership with Canon, facilitated by Tyronne Leon-Fernandez and Canon's Richard Harvey and Mark Szeliga, enabled the crew to get early access to the EOS R5C before it was launched, with only 3 being available in the whole of Europe at the time of filming.
The true 8K, 60 frames per second, internal recording capabilities of the R5C, meant that during post-production, RiVR had an incredible 4096×4096 pixels per eye to work with for cleanup and VFX and 14 stops of dynamic range when utilizing Canon's C-Log 3, providing plenty of detail in the highlights and shadows for colour-grading. The incredibly high true 8K resolution also meant that the project could be future-proofed for new generations of VR headsets as the push for realism moves further towards a reality, with more powerful processors, better screens equaling more immersion.
There is a real beauty in stereoscopic 180° cinematography, as the introduction of two lenses means that true stereo parallax is present, which provides the same level of disparity as the average pair of human eyes. Each lens mimics what a person would see out of each eye, and due to the precision build and crystal-clear image, it really does feel like you could stand up and walk into the scene in front of your eyes.
This next step in immersive realism provides new heights of a true to life experience, allowing our audience to feel part of the scene and develop empathy and true emotion towards our contributors. Offering this educational piece in such high quality VR was paramount to its success and impact, and we hope it not only captivates our audience but sparks an inspiration, urgency and desire for change for our future generations.